EB-5 Regional Centres v EB-5 Direct Investment
13-July-2018
13-July-2018 23:53
in US Immigration Business Plans
by Admin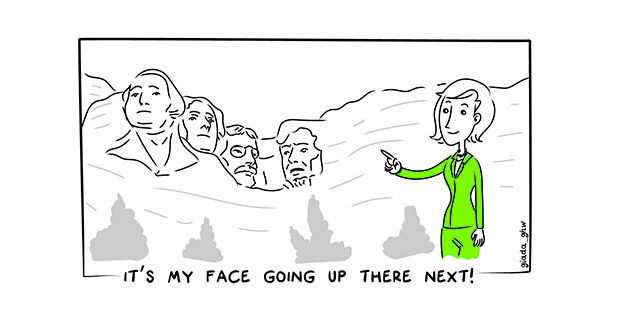 The EB-5 Visa, also known as the Immigrant Investor Program, is one of the few US visa programs that can result in permanent residence for investors, business owners, and their families and is thus extremely popular. Between its inception in the early 1990s and the late 2000s, EB-5 did not attract a huge number of applicants but today demand for these visas far outstrips available supply. The EB-5 visa route only really took off with the increase of EB-5 interest from Chinese applicants after 2008. Since then, Chinese investors have driven exponential growth in the number of visas issued, claiming a majority of these visas until the total number of EB-5 visas possible to issue hit its ceiling, the annual quota of about 10,000 visas, in FY2014.
There are two fundamentally different ways that EB-5 investors can approach this visa route. These options are:
EB5 Direct Investment Visa - Prospective EB-5 visa applicants can invest directly into a new or existing business.
EB5 Regional Center Visa- Prospective EB-5 visa applicants can also invest into a regional center EB5 project.
EB-5 Regional Center Investment is More Popular than EB-5 Direct Investment
The most popular of the two options available to EB-5 investors is the Regional Centre approach.
EDIT (January 2019): The table below shows detailed EB-5 statistics for FY2018 (i.e. year ending September 30, 2018). Please note when assessing the information in this table that it indicates the number of green cards issued for conditional permanent residence. Green cards are issued between 1 to 5 years after the initial application, depending on investor origin and I-526 processing time. Also, these numbers not only include the actual investor but also any dependents, of which there is an average of two for every investment.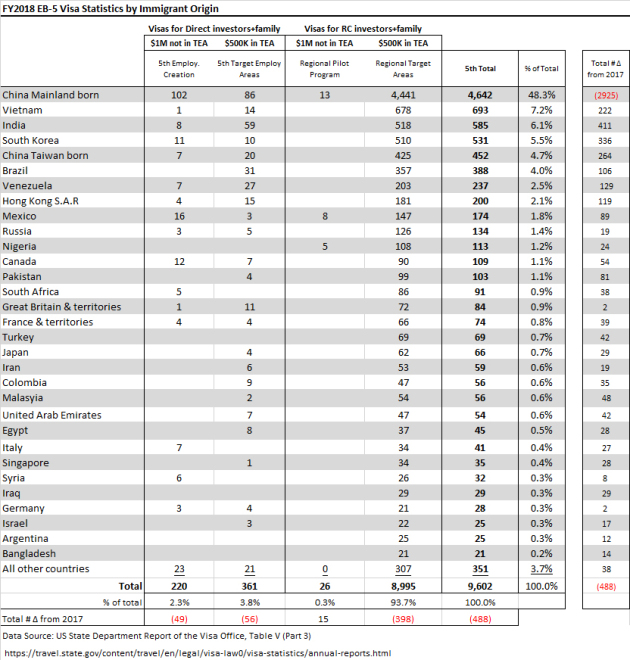 As the table shows, EB-5 direct investors and their families received 581 green cards for conditional permanent residence whilst regional center investors and their families received 9,021. In other words, almost 94% of the EB-5 visas granted in FY2018 were granted based upon an investment into a qualifying regional center project.
Why do the Overwhelming Majority of EB-5 investors Opt to Invest in a Regional Center Project?
I will list and critically examine below the various reasons why an individual EB-5 Investor might opt to invest in a regional center project instead investing
EB-5 Regional Centers Require a Lower, Fixed Investment
As the table above shows clearly, the vast majority (>99%) of investments made into a qualifying regional center project are for $500,000. This is because the vast majority of regional center projects (there are currently 800+ USCIS approved regional center projects operating across every US state) are deliberately located in a Target Employment Area (TEA). The investment amount is also fixed ($500,000 + one time administrative or syndication fee of 8% - 15% of the investment amount) and is known before an investor commits to a particular Regional Center project.
On the other hand, the amount needed for direct EB-5 investment into a new or existing business is difficult to quantify in advance. In the case of a new business, whilst a detailed business plan will provide some indication as to costs, there will no doubt be a few bumps in the road or unexpected opportunities along the path of starting and growing a new business that will cost more money than expected. It would not be unheard of for a new business to require as much as double the amount that was initially anticipated.
Some investors believe that they can obtain the best of both worlds by attempting to either invest in or acquire an existing business. Whilst this seems like a good idea in theory, it is by far the most complicated way to secure conditional permanent residence through the EB-5 program. In practice, the vast majority of direct EB-5 businesses are brand new enterprises.
The fact that the investment amount required for a direct EB-5 visa application is almost impossible to gauge with precision in advance and will almost invariably end up being significantly more than the minimum investment amount of $500,000 is part of why many potential EB-5 investors choose the EB-5 Regional Center route. Many investors prefer the comparative certainty of a regional center investment.
EB-5 Regional Centers Take Advantage of
Why Do Some Investors Prefer Direct EB-5 Investment Projects?
EB-5 Direct Investment Has the Potential for Much Greater Returns
EB-5 Direct Investment Provides Access to A Much Wider Range of Projects/Industries
EB-5 Direct Investors Can Influence the Success of the Investment
EB-5 Direct Investors Have Access to Different Types of Investment Capital