What We Do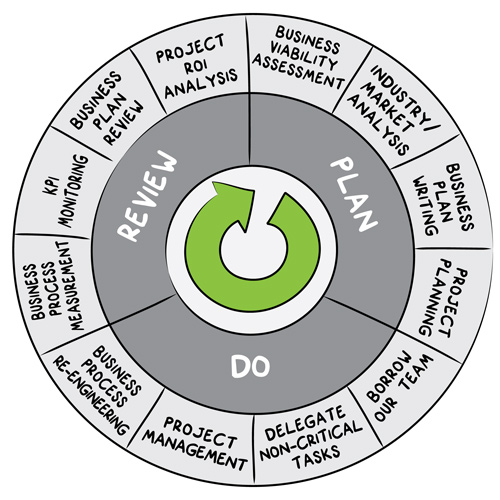 We help our clients grow their small businesses using an action-biased business development framework, the 3-stage plan-do-review experiential learning cycle.
The plan-do-review cycle is a business development framework that has been tried and tested in the trenches over the course of decades. The key difference in how we apply the plan-do-review learning cycle is that experience (do) is most often used as the initial stage, rather than planning (plan), which suits most small business owners who seem to place a superior value in physical work over thinking and planning. The cycle is continuous in either case, so no one starting point is inherently better. Indeed, the whole process could just as effectively start with a thorough review of current performance and the working practices that underpin it.
Your business improvement project can start anywhere that suits. The critical factor that will drive business growth is that the process is continuous. At Continuous Business Planning, we facilitate this process and get as involved in each of the stages as our clients need us to be in order for them to achieve their goals. To learn more about our prices, our method or our team, all the information you need is here at your fingertips. Alternatively, if you like the warmth of human contact, feel free to call us or send us a message.