Plan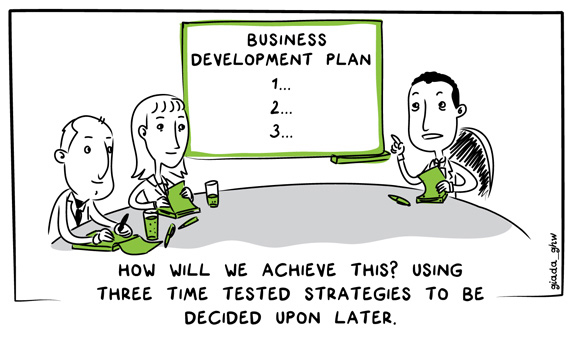 Every small business owner has heard the saying, "if you fail to plan, you plan to fail". Yet a recent survey in the UK reveals that two thirds of small businesses run on gut instinct, with no plan other than a few ideas rattling around the head of the business owner. You would never dream of buying a car without taking it for a test drive, yet many small business owners take on an undertaking many times more expensive and important without doing any due diligence on their opportunity. There are several reasons why small businesses fail to plan. If like most small business owners in the UK, planning isn't your thing, we can help with a full range of bespoke business planning services.
Business Viability Assessment
Industry/ Market Analysis
Business Plan Writing Service
Project Planning & Justification
With our ongoing services available from £100 per month, and with our 500% return on investment promise, contact us today to help you make the most out of your small business.
Business Viability Assessment
Setting up a new small business will likely be the greatest investment of time, energy and money that you will ever make. You would never dream of buying a car without first taking it for a test drive. Our business viability assessment is a test drive for your business idea. If you are an aspiring entrepreneur who has a game changing business idea but you want to be confident that this idea can become a financially viable business before kissing your corporate gig goodbye and jumping in with both feet then this service is what you need. So, if you want to stand back with a team of small business professionals and take a good, hard look at an opportunity before you leap, our Business Viability Assessment could either save you an enormous amount of time energy and money or send you on you way with added confidence and greater clarity of vision and a clear strategy for achieving your business goals.
Following an initial consultation in which you explain to us the opportunity, we will conduct a gap analysis on the information that you have and make a decision as to how best to gather any missing pieces of the puzzle. We will then assess the opportunity in the context of all the essential information needed to take an informed view of the viability of the proposed business venture and compile an assessment report. The result of this assessment will be the recommendation of the report that the status of this business opportunity should either be green for "go", amber for "proceed with caution" or "red" for stop.
Armed with this professional assessment of the opportunity, you can seize this new opportunity with confidence or breathe a sigh of relief that you were prescient enough to pass up on an opportunity that could have been catastrophic for both you and your business. Alternatively, you can go back to the drawing board and with our help, refine your plan so that it stacks up in the cold hard light of all the relevant facts.
To discuss our Business Viability Assessment further, feel free to call us or send us a message.
Industry/Market Analysis
For those entrepreneurs looking to compete in new markets or target a different industry, there are certain things that it's crucial to understand from the outset.
Is the market large enough to make the effort worthwhile? Is the industry sufficiently attractive? Can our team establish a sustainable competitive advantage with this proposition?
Markets and industries are not the same. These terms are often used synonymously, but this is a dangerous mistake that could lead to small business owners being blindsided.
Why is the market-industry distinction so crucial? Simply put, judgments about the attractiveness of the market may be radically different from judgments about the industry. A classic example of this is the dot.com bubble at the turn of the millennium. In the late 1990's entrepreneurs were desperate to attain first-mover advantage in the dot-com world. The problem was that they all seemed to have a fatally flawed understanding of what they were getting themselves into. The dot.com market or those individuals who would use the Internet for shopping, information, communication and other purposes was and is extremely attractive: it was fast growing and would soon include most segments of the population. Unfortunately, many industries on the Web were and still are deeply unattractive, because numerous new competitors can easily enter, differentiation is difficult to establish, and competitive advantage is hard to sustain with competitors only a mouse-click away. Unfortunately for the many dot-com entrepreneurs the recognition of this crucial distinction came too late. The good news is that your small business needn't make the same mistake.
Continuous Business Planning will help you analyse the market, industry, and team elements relative to the opportunity, ensuring each is sufficiently attractive and that sustained competitive advantage is possible. If they are not, there's little point in wasting time developing detailed plans. Instead, we can help you choose a different target market, one more receptive to your proposed offering or adapt the offering to make it better fit with what the market needs. We can help you assess if a different industry setting would be more hospitable.
To discuss the specifics of an Industry/market analysis further, feel free to call us or send us a message.
Business Plan Writing Service
At some point in your business journey, you will likely have to create a full, traditional business plan. It might be that you are seeking outside investment or applying for finance from a bank or another lender. It might be that you need to articulate the future direction of your business to potential employees or other key stakeholders to win their ongoing support or it might be simply to make sure that you have thought through every element of your business opportunity.
Writing a full business plan from scratch is a huge undertaking, reportedly taking the average entrepreneur 400 hours to write and research. It takes a unique blend of creative writing, research and analytical skills to produce a document that's fit for purpose. As the person who makes it all happen in your business, can you afford the investment of time to move up the steep learning curve of such a specialist task?
Continuous Business Planning are small business planning experts, having written dozens of full plans raising over one million pounds of start up finance. Unlike most business planning consultants, we realise that no one person has all the relevant experience or skills to create the most complete and appropriate plan possible. Instead, our team of experienced entrepreneurs will collaborate in producing exactly what you need, with your project manager crucially sourcing the right input from the right people over the course of as little as a week. Our seven step process is as follows:
Step 1: Choose Continuous Business Planning to get your business plan on track.
Step 2: Get a team assigned based on your industry and requirements.
Step 3: Talk to your Project Manager and get a timeline.
Step 4: We build out the financials, market research, and written sections.
Step 5: Your Project Manager delivers a first draft.
Step 6: We revise and refine your plan based on your feedback.
Step 7: Your approval. The final Word document is printed, bound & delivered.
Uniquely, at Continuous Business Planning, our plans are written by small business owners for small business owners. We understand that your plan needs to work in the unique context of your start up or small business rather than being a carbon copy of the same old textbook plan, written by MBA's for long established medium to large organisations. You know that a plan that is bent and twisted to fit the needs of your small business, an organisation different in kind, not just scale, from the type of organisations that the textbooks are written about, simply will not be useful in providing you with a workable roadmap.
For a business plan that will work, choose Continuous Business Planning. Call us or send us a message today to move one step closer to obtaining the insight and the finance that will take your small business to the next level.
Project Planning & Justification
All this high level planning is useless unless it helps to guide action where the rubber meets the road in your day to day business life. Yet, it can be difficult to translate the great intentions enshrined within our small business plans into concrete next steps. Our project planning service exists to help you bridge the gap in your small business between strategy and implementation.
Project planning, just as it sounds, is the planning of discrete projects launched to deliver specific business outcomes. In the greater context of your business goals, we help you identify the individual projects needed to take you from where you are to where you want to be. We help identify the key elements of the project and then help you plan the implementation of these elements to ensure that the anticipated benefits of the project are delivered on time and within budget. We can even help you put together the cost /benefit analysis that justifies the project in the first instance and that is used as the subsequent yardstick by which success is measured.
Using our online project management software partner, Wrike, we will help you determine:
What needs to be done (Project Scope)
How you are going to do it (The Mandate)
What resources are necessary (Resource Planning)
Who will be accountable for performing project tasks (Delegation)
What can potentially go wrong (Risk Management)
From the outset, we will help you determine the scope of each project, the budget, the requirements and the schedule. We can help you lead the project, make decisions and plan and monitor and control your team from project initiation to completion.
If you think that your business could benefit from our project planning expertise, call us or send us a message today