Review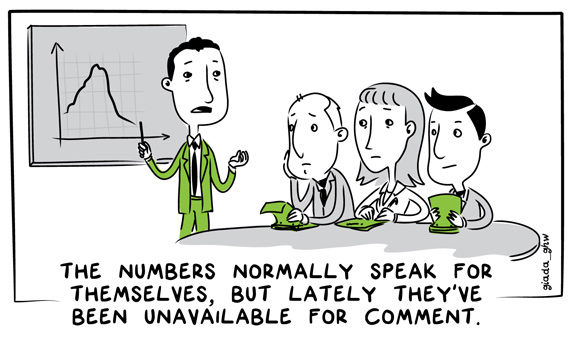 At Continuous Business Planning, we firmly endorse Peter Drucker's famous maxim, "If you can't measure it, you can't manage it". Without real time data regarding business performance, your small business is flying blind. You may get lucky initially but as time goes by, without properly interpreted real time data, your business will stray off course, just as surely as an airplane without its complex instrumentation would depart far from its flight plan and finish up a long way away from where it should be. Your small business, like an airplane, tends toward being off course. Getting off track is an inherent part of being human. However, your small business can make it to its destination in the same way as the airplane; by nearly incessant course corrections throughout the duration of the flight.
Our small business review service helps you to consistently gather and interpret the data you need to make the numerous course corrections required for you to arrive at your destination. You need a review process that can focus on answering key business questions and provide a consistent interpretation of strategy and, of even greater importance, give small business owners more time to do what they do, rather than think about what they do. Continuous Business Planning act like a satellite navigation system for your business, keeping you on track by helping you respond to real time data. You'll know which of your products and services are succeeding, which aren't performing as planned and what is really behind the problems of a product or service.
If you are keen to keep your small business on track, then contact us today. With our ongoing services available from £100 per month, and with our 500% return on investment promise, you'll be glad that you did.
Business Process Mapping & Measurement
You didn't start your business to become a slave to it, but how do you get things done the way they need to be done without you there? The first step in gaining control over an organization is to know and understand the basic processes. Once they are properly understood, mapped and measured, your small business can tap into the power of systems based management.
You can stop working in your business and start working on it.
You can re-engineer your business processes for greater efficiency or implement quality assurance programs such as ISO9001:2008.
You can create systems in your business which operate without you, so that you can enjoy more leisure time or pursue other business opportunities.
You can dramatically increase the valuation of your business in preparation for an eventual sale.
Can you imagine owning a small business you didn't have to work in? Would it still work? Most small business owners are chained to their business, to the detriment of their health and important relationships. Their business doesn't work – they do. Everything about the business is in their heads and so they are the only ones who know how to do anything and are thus trapped. It doesn't have to be this way.
The necessary first step to achieving these goals is to clearly understand your current position. Continuous Business Planning will help you. With this clearly mapped out and measured , you can truly see if your re-engineering efforts are improving your business. If your tinkering has not delivered as anticipated, then we have default settings for your small business to which you can easily revert back.
If you are keen to take your first steps to a system based business that will eventually succeed without your day to day involvement, contact Continuous Business Planning today for a free consultation.
Key Performance Indicator (KPI) Monitoring & Trend Analysis
At Continuous Business Planning, we firmly endorse Peter Drucker's idea that "If you can't measure it, you can't manage it". The question then becomes what do we need to measure in order to manage our business effectively? KPI's serve to reduce the complexity of your small businesses performance to a small number of key indicators in order to make performance more understandable and digestible for us. This is the same approach we understand and appreciate when we go to your doctor and he measures blood pressure, cholesterol levels, heart rate and your body mass index as key indicators of your health. With KPIs, we are trying to do the same in our organisations.
In practice, great caution needs to be exercised in ensuring that what we measure is linked directly to the results we hope to see. Many businesses, both large and small follow the 'ICE' approach:
Identify everything that is easy to measure and count
Collect and report the data on everything that is easy to measure and count
End up scratching your head thinking "What are we going to do with all this performance data?
Clearly this approach is counterproductive. Another problem is that we often associate KPIs with quantifications and numbers. The perceived objective is to provide us with a rigorous picture of reality. However, this seems to work in some areas better than in others. We find it easy to quantify things like money earned, customer transactions in a day, number of patients treated and we can count incoming complaints or number of service visits. Other things though are not easily counted. Things like overall service delivery, organisational culture, our know-how, the strengths of customer relationships or the reputation of your organisation are all inherently difficult to count.
Therefore, any attempt to systematically measure the important outputs of our small business must go beyond simply counting. In any small business we also have to balance quantitative and qualitative measures to gain a real understanding of what is really going on under the bonnet.
If you are looking to consistently check the health of your business but don't know how or where to start, call Continuous Business Planning. We'll ask one or two so-called Key Performance Questions (KPQs) for each of your small businesses strategic objectives. Our KPQs will help you articulate the information needs which in turn allow you to design the right performance indicators to help you answer your KPQs.
Contact Continuous Business Planning today if you want to introduce the power of KPI's into your small business.
Business Plan Review
The average business plan takes 400 hours to research and write. This huge investment of time, effort and money has rapidly diminishing returns if it simply spends its life on a shelf gathering dust. For those that invested that time, effort and money in charting a course for their business journey, wouldn't it make sense to use it?
Continuous Business Planning will dust off your plan and make sure that all the key elements are present and up to date. We'll make sure that your financials stack up. We'll make sure your plan reflects the very latest market and industry research available. In short, we'll resurrect your original plan and restore it to its rightful place as a living breathing document helping to drive key business decisions on a day to day basis in your small business.
We also offer a one off review service for those small business owners who have written their own plans but want a professional second opinion before they submit the plan to financiers. Our team of experienced entrepreneurs will collaborate in producing exactly what you need, crucially sourcing the right input from the right people at the right time. Since our plans are written by small business owners for small business owners, you'll know that when we suggest something, we are speaking from experience as fellow entrepreneurs with "skin in the game", not theoreticians trying to make the latest fad of the month management theory fit your unique circumstances.
If you want to learn more about the benefits of our business plan review service, don't hesitate to call us or send us a message today.
Project Review & ROI analysis
One of the lesser known but most important facts about planning is that every business plan needs a review schedule. When you engage Continuous Business Planning as your partner, a review will happen every week. It may happen by phone or by Skype. Very occasionally, it might even happen by exchange of e-mail. But it assuredly will happen every week without exception.
Why do we feel so strongly about planning reviews? Simply put there is no reason to plan without a plan review. The only basis on which we can work with a client is that they commit to a weekly review session with us. These meetings will be short, will emphasize the metrics that are being monitored to measure progress towards or away from the goals in your plan and will be regular.
The one certainty in modern business is that change happens. This is good when managed properly. Up to date, accurate plans based upon an accurate understanding of where the business is today are essential tools to help us manage change. We don't just review to keep on reminding ourselves how bad we are at predicting the future. We do it to help create the future we predicted.
You might have missed it but our service comes with a 500% return on investment promise. What we mean by that is that if our involvement in your business does not result in 500% more value to you and your small business than is spent on our monthly service, we will offer you a full refund and our sincere apologies.
We'll discuss the specifics of how we will calculate that working with your small business with you at the start of our working together and we will do a full ROI report for each project at the end of every three months and if at that time there is no clear path mapped out to delivering the promised benefits over the course of the next nine months, we will shake your hand, refund the money you've paid and walk away from our partnership. That's a promise.
If you like the way we do business and want to work with us to build your business, then call us or send us a message today.