Ten Reasons Why the New Innovator Visa Will be Even Harder To Secure than the Tier 1 (Entrepreneur) Visa
31-March-2019
31-March-2019 13:22
in UK Immigration Business Plans
by Admin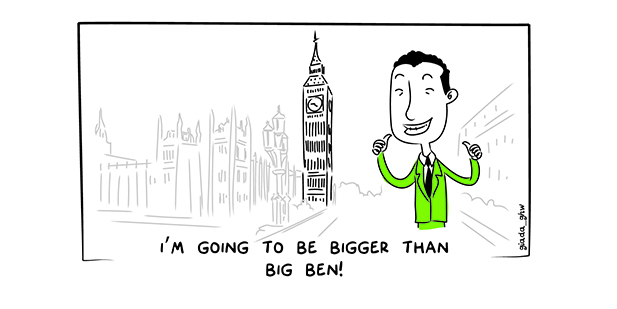 The Tier 1 (Entrepreneur) visa scheme closed to new applicants yesterday (Friday, 29th March 2019) and was replaced by the new Innovator visa route. When this change was announced earlier this month, many immigration solicitors and consultants with experience with the Tier 1 (Entrepreneur) visa scheme over the last ten years were excited at the possibilities of the new Innovator visa scheme. The Tier 1 (Entrepreneur) route had proven to be notoriously difficult to navigate, with only a small percentage of people managing to successfully pass all the way from initial application to settlement grant. Consequently, excitement has been high amongst immigration by investment practitioners all over the world who have high hopes that the new Innovator visa scheme will prove to be a significant improvement on its predecessor.
Tier 1 (Entrepreneur) Visa had an Exceptionally High Refusal Rate
The following statistics, drawn from an excellent article by our friends at ukvisa.blog, show the attrition rate at the first stage of the process, the application for entry clearance.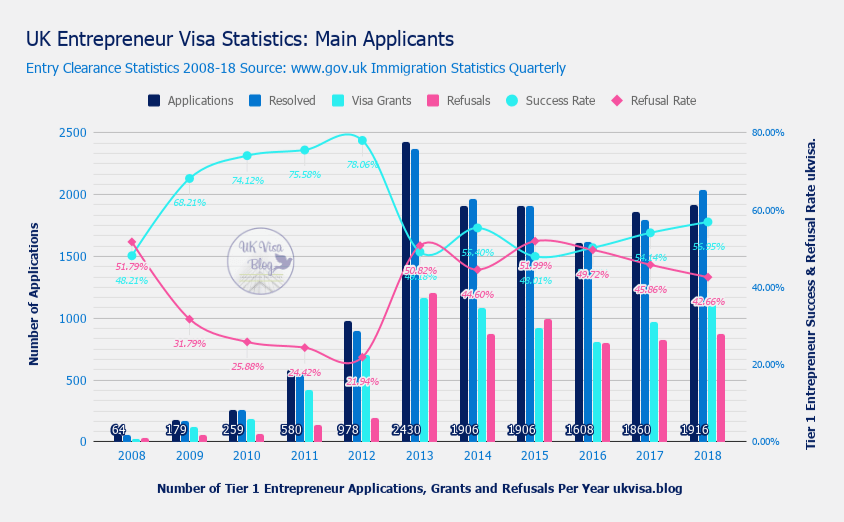 If we tally all of the main applicants for a Tier 1 (Entrepreneur) entry clearance visa between 2008 to 2018, a total of 13,686 Main Applicants applied with 13,635 applications resolved for entry clearance as Tier 1 entrepreneurs. The statistics summarised in the chart above show that during the ten year period, 7,573 main applicants were granted entry clearance under the route, which means that the average Tier 1 entrepreneur success rate for main applicants seeking entry clearance during the ten year period was 55.54%. That means that the average refusal rate over the ten year period was 43.75%, one of the highest refusal rates of any visa system in the World. The chart also shows that the refusal rate more than doubled following the introduction of the "genuine entrepreneur" test in January 2013 and remained unusually high for the rest of the life of the visa.
Although the "genuine entrepreneur" test was introduced with good intentions (i.e. to reduce the number of fraudulent visa applications), one of the major criticisms of this "genuine entrepreneur" test was the way in which the test was administered. Entry Clearance Officers (ECO's) were given the responsibility to assess "the viability and credibility of (the applicants) business plan and market research of (their) chosen business sector". The subjective nature of this assessment caused widespread concern, especially given that the immigration officers responsible for these decisions would almost invariably not be properly qualified to make an accurate assessment of the credibility of the applicant's proposed business and the viability of their specific plans. To overcome these difficulties, ECO's were increasingly forced to rely on scripts when interviewing applicants to apply the genuine entrepreneur test. This workaround didn't really work either, ultimately coming under court scrutiny for being too rigid and arbitrary.
In 2015, the Migration Advisory Committee (MAC) carried out a review of the Tier 1 Entrepreneur visa, concluding, among other things, that the decision-making process for the visa was in need of reform. MAC's 2015 report called for reform of the current entrepreneur visa application process by exploring "alternative delivery options for the genuine entrepreneur test." This recommendation would ultimately lead to the development of the new start-up and innovator visa routes, in which applicants business ideas would be assessed by a Home Office approved Start-Up and Innovator Visa endorsing bodies.
It makes perfect sense to have business ideas be assessed by endorsing bodies with entrepreneurial experience, commercial insight, and technical knowledge rather than by Entry Clearance Officers who are ill-prepared to make a sound judgment about the viability or otherwise of a particular enterprise. However, these changes, along with several other small but significant changes to the rules as they existed under the old Tier 1 (Entrepreneur) visa scheme, throw up a series of problems for entrepreneurs looking to make the move into the UK market which may make it even harder to secure the new Innovator Visa than it was to secure the notoriously difficult Tier 1 (Entrepreneur) visa.
Why the Innovator Visa Might be Harder to Secure than the Tier 1 (Entrepreneur) Visa
There are numerous reasons why the new visa looks likely to be even harder to secure than was the previous visa. We've listed ten things below for you consider when you are considering which visa route is likely to be best suited to your unique situation and goals.
Most Endorsing Bodies have Not Yet Announced the Details of Their Endorsement Scheme - It does not seem as if the endorsing bodies that were announced as part of the new Innovator Visa scheme have been given enough time to think through the details of how they want to administer the scheme. Setting up an endorsement scheme requires the endorsing bodies to establish their specific scheme assessment criteria and processes, appeal mechanisms, application forms, charging structures and terms and conditions under which it agrees to be an endorser. This all takes time and requires external expert advice, and it is abundantly clear that the initial cadre of endorsing bodies was not given enough time and support to ensure that these were in place before the Tier 1 (Entrepreneur) scheme was closed and the new scheme opened to applicants.
Many Endorsing Bodies Are Not Ready to Receive Applicants - Although the new Innovator visa route opened for applicants yesterday, our research has shown that not all of the endorsing bodies are currently accepting applications for endorsement. Tech Nation and DRS Business Solutions, for example, have both confirmed they will only be accepting applications from September 2019 whilst many of the accelerators and business incubators that are on the initial list of endorsing bodies only accept new participants in their programs at specific times of the year and are not currently open to new participants.
Some Endorsing Bodies Require Participation in an Existing Program - There does not seem to be a requirement that Endorsing Bodies have to operate an 'open system'. In other words, the endorsing bodies can insist that a pre-existing working relationship or activity with the body, such as received investment from them or participated in their accelerator program, is a prerequisite to endorsement. Many of the endorsing bodies have, at least initially, adopted this approach and are not accepting 'open' or 'independent' endorsement applications. Royal Society Edinburgh, Ignite and Bethnal Green Ventures, are just some of the Endorsing Bodies requiring acceptance on to a program before even considering endorsing visa applicants.
Existing Visitor Visas Are Not Fit for the Purpose of Participating in an Accelerator/Incubator - There is no existing visa that really allows for potential Innovator visa applicants to legally to take part in an Incubator/Accelerator. There is a specific 'Prospective Entrepreneur' visitor visa that allows a person to come to the UK for discussions and to secure funding for a business they intend to set up in the UK. However, the rules surrounding this visa expressly forbid an applicant in this category from working in the UK. The accelerator/innovator programs that are an essential pre-requisite to an innovator visa application can take up to six months, depending on the endorsing body, and will very likely require the applicant to have a right to work in the UK. Almost all of the programs involve the applicant working in their business to at least some degree.
Many Endorsing Bodies Only Cover Specific Regions or Industries - Whilst some Endorsing Bodies consider themselves 'sector-agnostic' and are thus open to working with a diverse range of entrepreneurs (e.g. SeedCamp, RBS, and Natwest), many are much more specialised and sector-focussed. For example, CyLon focus on cyber-security only, TechX focuses exclusively on the oil and gas industry and Deep Science Venture focus on pharma, energy, food and agriculture start-ups. Other Endorsing Bodies have a regional focus and require investment and/or relocation to a specific area. For example, Ignite (focus on North-East) and Med City (London and the South-East)
Some Endorsing Bodies Take an Equity Stake in your Company - Many Endorsing Bodies state that in return for acceptance into a program, investing funds into your business and the expertise and support which they offer, they will require an equity stake in the proposed business. While this might seem a fair trade for some start-up ventures, it will be a cause of concern for high caliber entrepreneurs who do not need third party investment funds and who already have the professional skills and experience needed to successfully steer their business to success in the UK market.
Only Innovative, Viable and Scalable Businesses Will Receive Endorsement - The "genuine entrepreneur" test has now been replaced by an assessment by the relevant endorsing body that the business is "innovative, viable and scalable". Depending on the endorsing body you are targetting, it is possible that certain business ideas will no longer be acceptable. Prospective applicants need to develop a business plan that brings something new to the UK market rather than simply launch a "me-too" business which is largely similar to existing businesses in a particular industry. A more cost-efficient version of an existing business model, a business based around a superior albeit similar product or a business with enhanced customer service may not be deemed sufficiently innovative and thus unable to qualify for the endorsement they need to obtain their Innovator visa.
The Innovator Visa Is Not Suitable for Applicants Wishing to Acquire a Franchise - Franchises will, almost by definition, not be sufficiently innovative to obtain an endorsement as you are essentially buying an existing, proven business blueprint along with the requisite permissions to operate your own unit of that same business. Franchising is a popular way of mitigating some of the risks of starting a new business and was popular with Tier 1 (Entrepreneur) applicants. This option is now effectively closed to anyone other than an applicant that is willing and able to pursue a Tier 1 (Investor) visa.
The Bar to Obtain Indefinite Leave to Remain is Very High - Innovator Visa holders can apply for indefinite leave to remain (ILR) after the initial three-year term of the visa expires, which is an improvement of the five year period required under the Tier 1 (Entrepreneur) visa. However, the requirements in terms of business performance during that time are much higher than its predecessor. It is true that the investment requirement has been reduced from £200,000 to £50,000 which in theory should make this visa accessible to a much larger group of people. However, the requirement to generate new jobs for UK residents has increased substantially from 2 Full-Time Equivalent (FTE) positions to 10 FTE positions. This requirement is reduced to 5 FTE positions if their gross salary is greater than £25,000 per year. A business that reaches revenue in excess of £1 million in its third year may not have to meet the employment criteria. This is reduced to £500,000 if over £100,000 of that revenue comes from exports. In short, it will be significantly harder for Innovator Visa holders to meet the criteria for ILR within a three year period.
Uncertainty Inherent in New Visa Route - The Innovator visa replaces a ten-year-old scheme that was well understood by everyone. What is already clear about the new Innovator visa route is that it is not clearly understood by potential applicants, immigration lawyers and consultants and the initial cadre of endorsing bodies. There is a sense of uncertainty, caution, and hesitance among many in giving definitive answers to questions as everyone tentatively figures out their new processes in the wake of this big change and take their place in the new UK business immigration landscape.
As we have hopefully made clear, there are numerous challenges connected with the new innovator visa and we suspect it will be some time before this visa route is perceived as an attractive option for the high caliber foreign entrepreneurs that are looking for a home for their innovative, viable and scalable business ideas. Our opinion is that the Tier 1 (Entrepreneur) visa route should not have been closed until the Innovator visa route was actually ready to receive applications. We'll have to wait and see what the initial take up of the innovator visa looks like, but I suspect that the number of applications will be substantially lower than for the visa it replaced due to the problems detailed above.
EDIT (22nd August 2019) - The Entry Clearance tables show that for those applying from outside of the UK, there have been just four applications made in the first quarter of 2019 (April - June) of which two have been granted and two are yet to be determined. By way of comparison, there were 738 Tier 1 (Entrepreneur) applications made in the previous quarter. Whilst it was evident to any sentient observer that there would be a significant fall in the number of applications for the new innovator visa, I think these statistics were surprising to everyone, including the Home Office, and they will be now be looking at ways to encourage participation in the scheme. Our opinion, for what it is worth, is that the most important way to promote this scheme would be to increase the number of endorsing bodies that are committed to working with Innovator visa applicants so that there are endorsing bodies from every major industry that are willing and able to support foreign entrepreneurs with innovative business ideas.
If you are currently considering the Innovator visa route, we will be happy to help you navigate the brave new world of UK business immigration.
We will help you to identify which, if any, of the endorsing bodies would be most suitable for your business idea and will make the necessary introductions so that you can get started with them on qualifying for a visa endorsement.
We can also help you put together the business plan that will be the focus of your application to work with an endorsing body and your subsequent Innovator visa application.
Please reach out today for a free, no-obligation initial consultation.