UK Innovator Visa Business Plan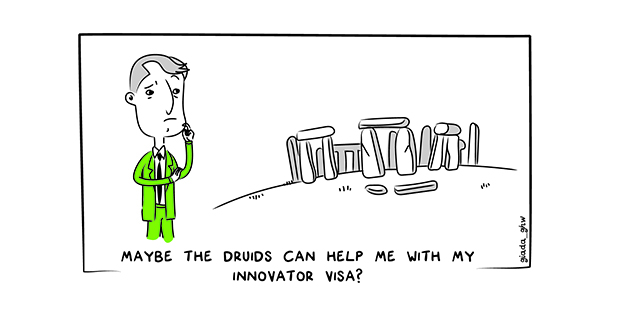 From 13 April 2023, only those who hold a valid innovator endorsement issued before 13 April 2023 will be able to apply for an Innovator Visa. From 13 July 2023, the Innovator Visa route will be closed to new applications. The replacement for both the start-up and innovator visa routes, the Innovator Founder visa route, will launch on 13 April 2023. Entrepreneurs who are looking to establish a business in the UK and who have not yet been endorsed should therefore apply for an Innovator Founder Visa instead.
Following the closure of the Tier 1 Entrepreneur visa on 29 March 2019, the UK innovator visa is now officially open for applications. However, the initial take-up of this visa has proven to be slow largely because of several challenges that these changes have thrown up for entrepreneurs looking to own and operate a business in the UK. In theory, the Innovator visa should be attractive to even more foreign entrepreneurs than the Tier 1 (Entrepreneur) visa, as the minimum capital requirement has been substantially reduced from £200,000 to £50,000. However, the criteria for the Innovator Visa is more demanding now that the "genuine entrepreneur" test administered by an Entry Clearance Officer has been replaced with the need to obtain a letter of endorsement from a Home Office approved endorsing body.
Endorsing Bodies is an umbrella term for organisations which have expertise in identifying, investing and developing businesses in their respective sectors. They include incubators, accelerators, business development organisations, and government agencies. The list of endorsing bodies is constantly changing as this visa route matures, with bodies withdrawing and new bodies becoming authorised. An up to date list can be found here, whilst we have written and will regularly update an article on our blog which outlines what we have been able to learn thus far about each endorsing body.
Applicants must have a business idea that has been assessed by a Home Office approved Innovator Visa endorsing body as being innovative, viable and scalable More details on these criteria are provided in Part W5.2 of the Immigration Rules:
Innovation — does the applicant have a genuine, original business plan that meets new or existing market needs and/or creates a competitive advantage?
Viability — does the applicant have, or are they actively developing, the necessary skills, knowledge, experience and market awareness to successfully run the business?
Scalability — is there evidence of structured planning and of potential for job creation and growth into national markets?
It makes perfect sense to have business ideas be assessed by endorsing bodies with entrepreneurial experience, commercial insight, and technical knowledge rather than by Entry Clearance Officer who is ill-prepared to make a sound judgment about the viability or otherwise of a particular enterprise. However, this new innovator visa scheme throws up a series of challenges for entrepreneurs looking to make the move into the UK market.
Highly Competitive Visa Route - This visa route is more competitive than previous schemes as an applicant hoping to receive an endorsement as a first step to obtaining a visa will have to compete not only with other non-EEA nationals but with UK and EEA applicants too.
Limited Supply of Endorsements - Each endorsing body is limited in terms of the number of endorsements they can offer. Endorsing bodies currently require specific Home Office approval if they want to endorse more than 25 business ideas per year so capacity is substantially lower than with previous schemes which operated without any effective constraints in terms of the number of applicants. In excess of 1,000 visas were granted each year under the significantly more expensive and less attractive Tier 1 (Entrepreneur) scheme which suggests that demand is likely to be much greater than the available supply of endorsements.
There is a sense of uncertainty, caution, and hesitance among many in the business immigration industry in the UK and there are very few definitive answers for those to the prospective innovator visa applicants' who are looking for clarity whilst everyone, including the endorsing bodies, iron out their own processes and figure out their place in the new business immigration landscape. At Continuous Business Planning, we have invested the time and effort into understanding the new innovator visa scheme and encourage prospective applicants to lean on our expertise in order to maximise the chances that any attempt to secure an endorsement for an innovator visa proves successful.
We can help you in the following ways:
We can help you identify and develop an innovative, viable and scalable business idea.
We can advise you as to which of the endorsing bodies would be the most suitable for you and your business idea.
Identify and Develop an Innovative, Viable and Scalable Business Idea
Unlike the previous UK business visa schemes such as Tier 1 (Entrepreneur), a strong business plan which is viable and able to expand within the UK market may not satisfy the conditions of the new Innovator Visa. In order to secure an innovator visa endorsement, your business idea will need to be deemed innovative, viable and scalable by the endorsing body.
Innovative - Prospective applicants need to develop a business plan that brings something new to the UK market rather than a "me-too" business which merely competes with other similar businesses. Depending on the endorsing body you are targetting, it is possible that a more cost-efficient model or one with a superior but similar product or enhanced customer service may not be deemed sufficiently innovative. We will help you to take your idea and co-create with you points of differentiation and competitive advantage that will make your business truly unique. We will also help you find the necessary clarity to accelerate execution.
Viable - The endorsing body will be looking to support business plans that the entrepreneur and their team can actually deliver and that have a clear and credible pathway to profitability. We will also demonstrate that you and your team have the skills, knowledge, experience and market awareness to deliver on your business plan or help develop a clear recruitment and training plan to ensure that where there are skill gaps that could hamper business growth, there is a plan to close those gaps. We can help you to establish your funding requirements for the two year period of the start-up visa, identify the most suitable source of start-up funding and map out what needs to be done in order to firmly establish your business as a viable venture.
Scalable - Scaling a business is an often misunderstood concept. It does not simply mean that the business is capable of getting bigger. That would be true of almost every business. A business can only truly be said to be scalable if it has operating leverage. If additional revenue requires relatively smaller and smaller additions to operating costs, you have operational leverage and your business can accurately be said to scale. However, a business that adds revenue and operating costs at an equal rate or even adds costs at a greater rate than it can add revenue cannot be properly said to scale, even if the business could get a lot larger in terms of both their revenues and gross profitability. We can help you verify that your business idea is truly scalable by carrying out detailed the financial modelling necessary to map out the relationship between revenue and operating costs in your business, now and in the future.
Advise on Selection of the most suitable Endorsing Body for your Business
Once you have a fully formed business idea that meets the start-up visa criteria, your next consideration for prospective applicants is to select the most appropriate endorsing body for their business idea. There are several factors that must be weighed up when making a decision.
Some Endorsing Bodies require participation in an existing incubator/accelerator programme to qualify for an endorsement
As mentioned in the Home Office Guidance, there is no requirement that Endorsing Bodies have to operate an 'open system'. In other words, these endorsing bodies can insist that a pre-existing working relationship or activity with the body, such as received investment from them or participated in their accelerator programme, is a prerequisite to endorsement. Many of the endorsing bodies have, at least initially, adopted this approach and are not accepting 'open' or 'independent' endorsement applications. Royal Society Edinburgh, Ignite and Bethnal Green Ventures, are just some of the Endorsing Bodies requiring acceptance on to a programme before even considering endorsing visa applicants.
Some Endorsing Bodies have Fixed Application Windows
Many endorsing bodies only recruit once or twice a year for entry to these programmes. For example, Tech X offer places to one "cohort" of applicants each year in May whilst Zinc is currently open for "Mission 3" which will start at the end of September. There is a chance that your preferred endorsing body will not be accepting applications at the time that you want to move forward with your start-up visa application. You can check our up to date information on each endorsing body for more details on the application windows for each endorsing body.
Some Endorsing Bodies are Specialised and Sector-Focused
Some Endorsing Bodies consider themselves 'sector-agnostic' and open to a diverse range of business ideas (e.g. SeedCamp, RBS and Natwest) while others are much more specialised and sector-focussed. For example, CyLon focus on cyber-security only, TechX focus exclusively on the oil and gas industry and Deep Science Venture focus on pharma, energy, food and agriculture start-ups. Other Endorsing Bodies have a regional focus and require investment and/or relocation to a specific area. For example, Ignite (focus on North-East) and Med City (London and the South-East).
Some Endorsing Bodies Insist Upon Taking an Equity Stake in your Company
Many Endorsing Bodies state that in return for acceptance into a programme, the investment of funds into your business and the expertise and support offered, they will require an equity stake in the proposed business. While this might seem a fair trade for some start-up ventures, it will be a cause of concern for those considering the Innovator route who may not require additional investment funds and who have the professional skills and experience to steer their businesses to succeed in the UK market.
We will help you to identify which, if any, of the endorsing bodies would be most suitable for your business idea and will make the necessary introductions so that you can get started with them on qualifying for visa endorsement.
Our Services
There are two services we provide that may be of interest to potential innovator visa applicants.
Innovator Visa Business Plan Review
For those people that have already written their own business plan but need advice as to whether this is an innovative, viable and scalable business idea that meets the start-up visa criteria and want a recommendation as to which Endorsing Body they should approach, we offer our comprehensive visa business plan review service. The result is an actionable report with recommendations for improvement of the business model in terms of the degree to which it satisfies the visa criteria and also improvements in the content of the plan itself.
Innovator Visa Business Plan Writing
If you would prefer to outsource the writing of the business plan to our team, we will ask detailed questions about your business idea and vision during an initial consultation and would then transform it into a visa-compliant business plan in a way that is easy and stress-free for you. We will then review the full draft together and make sure you know your business plan thoroughly so you can pitch this idea to the endorsing body with confidence and expertise. Finally, unlike many business plan writers, we will not abandon you during the endorsement process. The endorsing body may ask questions that you won't feel fully comfortable answering, at which point you can simply reach back out to us, even if it is months after we finished the business plan and we'll help clarify anything that comes up.
If you want to own and operate a high-growth potential business in the UK and are interested in the Innovator Visa, please reach out today for a free, no-obligation initial consultation.