To Buy Or Not To Buy A Franchise
15-April-2013
15-April-2013 21:39
in Franchising
by Admin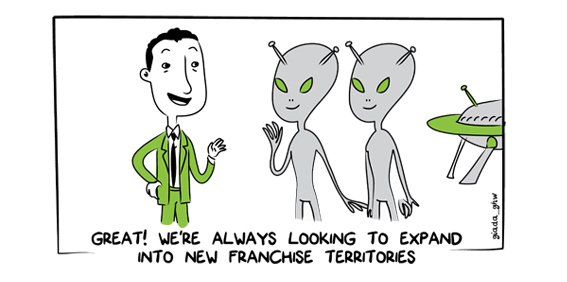 In response to increasing demand from clients, we have introduced a franchise evaluation service that provides all the information prospective franchise owners need in order to make an informed decision as to which franchise opportunity of more than 1500 currently available in the UK market is best suited to their experience, interests and personal and financial goals. The launch of this franchise evaluation service has prompted a number of our retained clients and prospective customers to talk with me about the relative pros and cons of purchasing a franchise as opposed to starting a small business from scratch. It is a subject which seems to elicit remarkably strong feeling, with some people passionately pro-franchise and others vehemently anti-franchise. This article today articulates what I have said and what I would say if asked for my opinion on the subject. Although I love start-up businesses and I do feel an emotional affinity with entrepreneurs who are looking to create something completely new (in that area at least), I honestly believe there is considerable merit in franchise ownership, providing of course that you partner with the right franchisor.
So, what are the principal advantages of purchasing a franchise business rather than starting a small business from scratch? I believe that there are at least three significant benefits offered by a franchise business as opposed to a traditional start-up that might stimulate your interest in franchise opportunities if you haven't considered one previously.
1. Franchise Businesses Are More Likely To Succeed
It's fairly well accepted and understood that a franchise business is statistically more likely to succeed than a small business started from scratch. The International Franchise Association has vigorously promoted a study over the years which they carried out a number of years ago that showed that 90% of franchises are still operating profitably after ten years of operations. This compared favourably with small businesses started from scratch, of which 16% were still operating after ten years. Whilst there is some debate about the accuracy of these and other remarkable franchise success statistics, it's clear that there are several characteristics of a good franchise business that lend themselves to superior business performance.
A franchise business has a business plan and operating systems that have been proven to work by other people before you. You do not start on day one of the business at the bottom of the learning curve.
Strong branding and brand recognition often come as part of the franchise package. Potential customers will already have a strong positive perception of a good franchise and there may be a pre-sold customer base which would ordinarily take years to establish.
A franchise business has a proven business launch process, often with the franchisor supporting you throughout the process, resulting in lower start-up costs and a shorter time period from signing the franchise agreement to start up.
Many franchise businesses can deliver lower costs to their franchisees through group purchasing.
Of course, these considerable advantages come at a price and we do not mean simply the initial fee for the franchise, the capital to fund the franchise to its breakeven point and the ongoing franchise fees. Franchisees will sacrifice a degree of independence, being contractually obliged to operate their businesses according to the terms set forth by the franchisor in the franchise agreement. The terms of a franchise agreement are sometimes limited and you are inextricably linked to the franchisor, whether they are performing well or poorly. Not everyone is cut out for franchising. However, I do believe that too many wannabe entrepreneurs dismiss franchising out of hand without properly considering the merits.
In order for the franchise partnership to succeed, the buyer must be comfortable not only with the franchise model, but also with the culture, values, and goals of the franchisor - and vice versa. A good match between franchisor and franchisee, sharing mutual goals over the long term, is essential to the success of each franchise unit, and the business as a whole. It's little wonder that many people compare the relationship between franchisor and franchisee to the relationship between husband and wife. Ultimately, as part of the right partnership, I believe that a franchisee is more likely to succeed within a franchise business than they would be starting their own business from scratch.
2. Franchises Are Easier To Finance
Whatever skeptics may say about the success rates of franchise businesses, banks and other commercial lenders perceive them to be substantially lower risk and are thus more likely to lend money to someone starting a franchise than someone looking to start their own small business from scratch, especially those going into business for the first time. Many banks, such as HSBC, Natwest, Lloyds TSB and RBS, have specialist franchise finance sections. Most established franchisors will have a good relationship with one or more of these banks. In some instances, franchisors are prepared to offer their own finance to help with the purchase of their franchise. Whilst franchisees will typically be expected to contribute about a third of the start-up costs, it is much more likely that banks will lend money.
The benefit of the relative ease in obtaining bank finance must be balanced with the fact that it is usually more expensive to start a franchise business than it would be to start an equivalent business from scratch once you have factored in the initial franchise fees.
3. You Are In Business For Yourself, Not By Yourself
Some people need total independence to succeed or fail on their own, but many prefer the security found in working as part of a larger organization. One of the major challenges for small business owners when they are starting up a business from scratch is that whilst they are often experienced at creating or selling a product or delivering a service, more often than not they struggle with some of the other tasks involved in the running of the business, such as bookkeeping and accounting, sales and marketing, training and development, health and safety compliance and countless other "back office" responsibilities that need to be handled.
By way of contrast, one of the great strengths of a good franchise system is the support that you will receive from day one. The extent of support offered varies according to the type of business and according to how it is structured. A job franchise network (where, for example, the franchisees do the drain cleaning) will likely offer extensive administrative and financial services to its franchisees. A management franchise (where the franchisees employ and manage) on the other hand will not be so much involved in the day to day administration but will focus on providing training to franchisees on, for example, recruiting and selecting staff, amongst many other services related to supporting management functions. Whatever the type of franchise opportunity, you are not alone but will enjoy the support of the franchisor not only at the beginning of the business but throughout your relationship together. The best franchise opportunities offer all the advantages of a larger organisation whilst preserving the independent status of the individual franchise unit.
For those of you currently considering the purchase of a franchise, we are happy to offer you our independent advice and to provide a franchise evaluation or our business planning or support services. Although franchise marketing messages might tell you otherwise, purchasing a franchise is a risky business and is not for everyone. But for those people who want to go into business for themselves but do not want to start from scratch, buying a franchise might just be the right step for you. Contact us today to get the ball rolling.