First Mover or Fast Follower? - The Everton Mint Story
03-June-2015
03-June-2015 8:43
in Start Up Business Advice
by Admin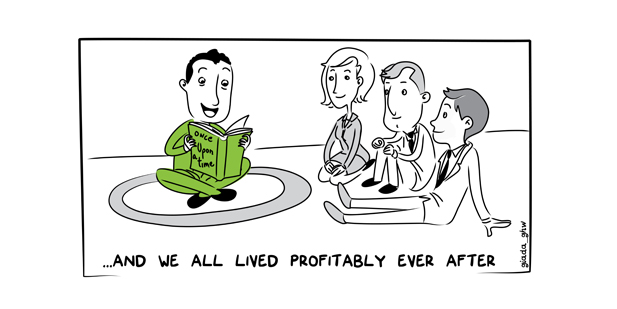 There is a persistent idea in business about the power of first mover advantage. According to the theory, as it relates to most small businesses, the first-mover has a huge advantage if it can claim a certain geographic area so long as that area provides the firm with all the resources it needs to thrive. If said area can be claimed and then made to flourish then the cost of entry to other firms would be too great and the first mover can thereby hold on to power for a long period of time. This is great in theory, but in an ever changing business environment, is this really true?
I grew up just outside of Liverpool in the 1980's, in the era when the two Merseyside clubs dominated British and European football. Our house was split down the middle with my dad and elder sister on the Blue side of Merseyside whilst the rest of us favouring the Reds. The rivalry got a bit heated at times. I remember it almost coming to blows when Ian Rush scored Liverpool's third in the 1986 FA Cup final, putting the game beyond doubt after Everton had led at half time with a Gary Lineker goal. For those of you who don't remember, this was Liverpool's double winning season, having took the league title from Everton just a few days earlier, so tensions were running unusually high, although we weren't averse to the odd football related fight.
There was one thing that we could agree on though. Everton had the best sweets. What with Everton Mints and Toffees, Liverpool just couldn't hope to compete. I wondered as a child how not one but two delicious sweets came to be associated with a football club. I was sufficiently wrapped up in the family football rivalry to want to find out and spent hours in the library looking it up. Today, I use the same story to make a point about the importance of gathering and acting on regular market intelligence to the small businesses we work with. It shows good market intelligence often eliminates the advantage that first movers enjoy over their competition.
Origins of the Everton Mint
The story originated very early in the history of the club, by association with not one but two local Toffee Shops that figured in Everton's early history. 'Ye Anciente Everton Toffee House' was located right by the Queen's Head Hotel in Village Street, where much of Everton's early development as a Football Club occurred. The Everton Toffee House was run by the descendants of Old Ma Bushell, the original creator of Everton Toffees. This confectionery was sold in huge quantities to the hungry hordes as they journeyed from far and wide to watch Everton play in the new Football League at Anfield, Everton's ground at the time.
From across Stanley Park, a competitor looked on and wondered how to get a slice of the match day action. 'Mother Noblett's Toffee Shop' was located near where Goodison Park is today, just too far away to really benefit from the match day footfall. However, Mother Noblett's was presented with the opportunity of a lifetime when they heard that the club was contemplating a decision to move the great club from Anfield to the new Goodison Park in 1893.
They hit upon a great idea as direct competition for the Everton Toffees patented by their arch rivals, 'Ye Anciente Everton Toffee House'. They invented Everton Mints, which were essentially Everton Toffee wrapped in a black and white crunchy outer shell. The black & white stripes of the sweet reflected an older strip that Everton had worn some years earlier. Everton Mints were a great success with the crowd, and sales of Everton Toffee from Ye Anciente Everton Toffee Shop declined rapidly, Shortly after, the competition threw in the towel and the recipe for Everton Toffee was sold to the Nobletts who used it to improve the soft centre of the Everton Mint. They also produced and marketed Everton Toffee in its own right.
Mother Noblett's ingenuity did not stop there. Understanding just how important the relationship between their sweet and the football club was to their success, the owners of 'Mother Noblett's Toffee Shop' met with the Everton board and agreed with them that before each football match a girl would walk around the outside of the football pitch tossing Everton Mints to the crowd in the stands, free of charge. This strategy of permanently aligning the business with the football club helped make the Everton Mint the famous name it is today.
The final touch in cementing victory over their former rivals came when 'Mother Noblett's Toffee Shop' found a beautiful young descendant of Old Ma Bushell , Jemima Bushell, dressed her in best finery, and donned a broad hat before having her carry around her basket laden with individually wrapped Everton Mints. Having now effectively co-opted their competitor's history they had finally eliminated the final advantage they might have enjoyed. This pre-match feature at Goodison Park has lasted over 120 years down to the present day.
The tradition of the Everton Toffee Lady was thus created, not as some even today still believe by the creator of Everton Toffee but by the fierce rivals of her descendents. Mother Noblett made such a success of her sweet and the crowd loved the 'Toffee Girl' so much that the club and fans decided to nickname the club the 'Toffees', a name which has stuck with Everton throughout it's history. Both Everton Mints & Everton Toffees were eventually sold to Liverpool sweet company Barker & Dobson, which is owned today by the Cadbury Trebor Bassett empire.
First Mover or Fast Follower?
Old Ma Bushell must be given the credit for the initial recipe for the Everton Toffee. However, it was their rivals that "Mother Noblett's Toffee Shop" that had the vision and the tenacity to take Old Ma Bushells idea and make it a big success. In modern business-speak, Old Ma Bushell was the first mover but she proved unable to sustain that advantage. This pattern is repeated again and again throughout business history.
In 1998, a company called Goto.com, a small start up which later became Overture, presented the pay per click search engine and advertising system at the TED conference. Over two years later, Google brought Adwords to market. Overture was acquired by Yahoo for $1.6 Billion. Google generated $37.9 Billion worth of revenues in 2011 and has a market capitalisation of roughly $350 - $400 billion
Books.com, the online wing of Bookstacks Unlimited, was the first online bookstore in 1992. It struggled to gain much traction and was acquired in 1996 by Cendant Corporation to be part of their virtual mall, netMarket. Today it is owned by Barnes & Noble. It was three years after the launch of Books.com that Jeff Bezos launched Amazon.com. Although they quickly diversified their product range beyond simply books, they went on to dominate online shopping Amazon generated $48 billion worth of revenues in 2011 and have a market capitalisation of between $100 - $120 billion.
Why do "fast followers" win more often? First Movers tend to launch without really fully understanding customer problems or the product features that solve those problems. They guess at their business model and then do premature, loud and aggressive marketing to customers that don't know they want what they sell and quickly burn through their cash. Astute companies who make it their business to be aware of what their competitors are doing right and doing wrong learn from their expensive mistakes and then avoid them. They can then offer a more tightly focused offering backed by a more robust business model and then acquire customers who now know that they want what you sell (thanks to the marketing efforts of the first mover) much more cheaply than the first mover ever could. That's what Google and Amazon have done. And that's what Mother Noblett's Toffee Shop did 120 years ago. Success in business, large or small, is about much more than simply being first to bring a great product or service to market. It's about watching and learning and adapting and evolving or, in other words, it is about Continuous Business Planning. Talk to us today to see what Continuous Business Planning can do for your business.